Home raised Portuguese Water Dogs with family friendly, happy, healthy puppies!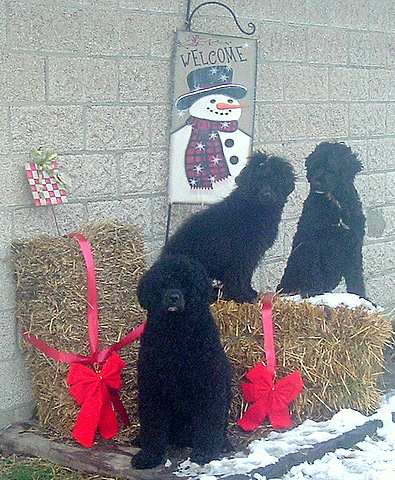 After owning breeds such as Chow Chow's, Rottwiellers and Cocker Spaniels, I was looking my next partner and started to put together a list of characteristic's that I wanted. Smart, trainable, willing, confident, athletic, friendly. After a client in my dog training school mentioned Portuguese Water dogs I found my list of characteristics written in the standard. The non-shedding / hypoallergenic part was a 'bonus' as no one in my family suffered from allergies but after living with these non-shedding dogs, I quickly realised that it is SO nice not to have to clean up hair on the floor, furniture, clothing!
I wanted a dog that was medium sized, highly intelligent, amiable, loyal and *appropriately* energetic. I didn't want a dog that was hyper. The PWD is energetic outdoors, in play and in work but when in the house, they are a pleasant, calm companion. Non-shedding was an after thought; a "bonus" - but after living with these dogs and having a "shedding" dog come to visit - non-shedding has become a must!! It is wonderful to pet them and play with them without fur flying all over the place and getting on clothes and furniture.
I wanted a dog I could compete in obedience with. I also wanted to try the conformation ring. I was operating my own training school in Ottawa at the time and was looking to add to my skills and experience.
... from the MOMENT I met him he was mine! He never left my side ...
At the annual Wiggle Waggle Walk-a-thon for the Ottawa Humane Society (for whom I worked with as a Canine Temperament Evaluator) I saw a lady with two PWD's. One handsome dog on a leash and the other, a 10 week old pup in her arms. After inquiring about the two dogs I was given the business card of Donna Wilson of Bridonport PWD's.
It began with Bridonport's Designated Diver "Tiago". I acquired him at 5 months old and from the MOMENT I met him he was mine! He never left my side. His loyalty and enthusiasm to please me was immediate and I was thrilled.
He was intended to be my 'obedience dog' but once I realized that he was 'well put together' I embarked on our Conformation journey. Never having done it before, it was quite a learning curve. I was determined to owner-handle him, after all, I was a 'dog professional'... wasn't I? It took 2 years for me to get my act together in the Conformation Ring, but we learned a tonne along the way to our Canadian Championship! Of course, I couldn't resist training in obedience at the same time! So, at many shows, we would compete in Conformation and Obedience during the same weekend.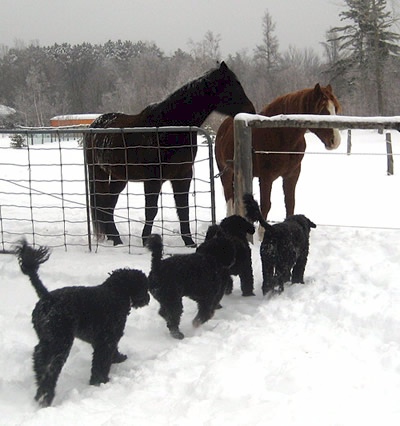 The shows in the summer, when he was in full coat for Conformation and then required to sit in full sun during the Open level of obedience for the out of sight group stays.... it was a true test of his fortitude! I always rewarded him with a good swim as soon as the Conformation was over! At one show, we finished Conformation and then went for a swim and then competed in Rally O - wet! Guess what...? We finished 1st in our class! We have also done the Canine Good Neighbour test, attended Dog Camps, put on trick demonstrations and 'played' in non-competitive agility. 2012 we trained for dog-sledding. What fun! Not to mention attending the national water trials each year to compete in the water, so far successfully completing each level. We earned Courier Working Dog Level in 2012.
In the meantime I also acquired Bridonports Third Time Lucky "Fergus". He had been returned to the breeder for being "too much to handle". Although, I have to admit that he was indeed, a lot to handle, he is also very driven to work and to please. He wanted to be working all the time! He was a joy and pleasure to work with in Water Trials. He is also Tiago's 1/2 brother (same mother). In 2011, we earned a Working Water Dog title! Fergus was neutered shortly before 2yrs old, not a breeding prospect because of his high drive nature, I feared his pups would be too much for families to deal with so Fergus stayed with us for 4.5 yrs until going to live with a wonderful family all is his own.
I had been doing extensive research on the web when I came across the Casahoya's website. I was immediately impressed with the quality of content that Ilona Griffeon of Amsterdam, Netherlands had regarding PWD's and her own breeding program. We began conversing over the web and before long, Ilona entrusted me with my oh-so precious girl, Grace.
MorFrends is a combination of my husbands last name 'Morin' and my maiden name 'Frendo' :)
Since our Foundation 3 Water Dogs (Tiago, Grace and Fergus) we have been so fortunate to live with and love many more, most of whom have been bred by us and born in our home. It's been a wonderful journey so far and it continues to get better and better. We love our Water Dogs!
We started by breeding more for a Working type temperament, (but those dogs can be quite demanding on a family) then went on to focus on some Conformation type litters (bred for their look and structure but can sometimes be a bit more dominant as it's more showy) but now we focus mostly on producing family pets. Pups that are easy to live with and happy to be loved by multiple people in the family, outgoing, playful (but not overly demanding like a Working type), sweeter, softer type of dog. Dogs who live in our own home with our children. Happy to see our friends and get along with our cat and horses. Dogs that will run with us during our outdoor activities but will settle in the house if the activity level is lower.
I hope that that you let us know if you have any questions about our dogs or type of pups that we raise. I'm happy to chat with people about MorFrends Water Dogs :-)