Portie Events in Ottawa
A proud owner and breeder of PWD's, I enjoy being able to meet and talk with experienced Portie people, new portie people and people who would like to know more about the breed.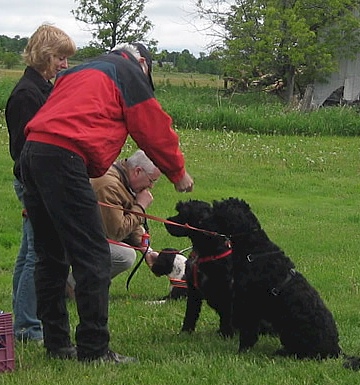 Of course getting to know a few more wonderful dogs along the way is a bonus! There is a growing community of Portie owners in the National Capital Region and it is great that we can get together for walks, workshops, shows and training. 
If you are someone who is lucky enough to have a PWD in your family or is someone interested in PWD's and would like to be added to a list of others please e-mail me at This email address is being protected from spambots. You need JavaScript enabled to view it.
On going Portie Walks!
These Walks are currently not being organized due to life circumstances but PLEASE, anyone interested, can go to either of these parks at the mentioned times and meet up with other PWD owners!
If none other is there, at least you still get a nice walk with your PWD!

1) The First Sunday of the month is Portie Promanade at Bruce Pit at 3pm.
2) The second Sunday of every month is at Conroy Pit at 3pm.
Both places are off leash dog parks. ! Click on to the Gallery to see some pic's!