All reservations for this fall are filled. I hope to have more puppies this coming Spring (2021) but I don't take reservations this far in advance because there is no telling what Mother Nature has in store and I prefer not to have peoples deposits if they find a puppy in the meantime.  You can send your questionnaire and I will file it.  I go down the list chronologically when I have puppies expected and ask if people are still interested at that time and we go from there.  Thank you for understanding. 
Personality and Character which fit the family are two of the most important ingredients for the success of the relationship between dog and family.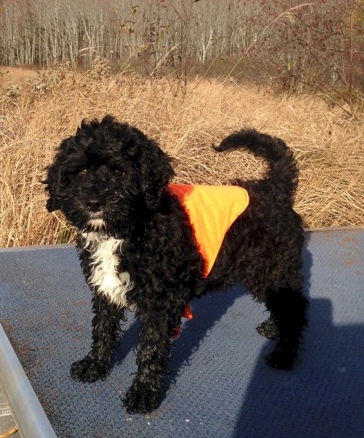 From experience, I know that having a dog that is well suited, character-wise usually works out better for both family and dog, therefore, I will be happy to reserve you a puppy based on gender and once a reservation has been made, you will get an additional form to fill out regarding your expectations, desires and goals that you would like in a pup.

At 7 weeks, the puppies are individually temperament tested and then each family will have 2 puppies to choose from (unless you are the last to reserve). The family makes the final decision on which pup is theirs :-)
The puppies are raised in the house with children actively participating in the rearing, handling and care-giving.  We live on a rural property but with neighbours so the puppies all get used to regular sounds.  They get access to outdoors starting after 5 weeks.  They are handled daily and given as many opportunities to experience different sounds (cars, trucks, light farm equipment, children, horses and regular house hold noises).  They have blankets in their sleeping area and newspaper so they learn to keep clean.  They go outside and feel grass, stone, wood, rubber and straw.  I put out various toys and objects for them to play with and interact with.  We have a cat that interacts with them aswell.  They see and interact with the older dogs after 6 weeks old.  
Giving puppies the best start possible to grow into family dogs, companions and active partners is the priority.  Bred for temperament, they also come from dogs with Show Champion pedigrees.  
The parents are health tested clear / normal for genetic diseases and the puppies are health checked, vaccinated, dewormed & microchipped before going to their new homes.  They are CKC Registered and each family has the option to have 6 weeks free trial pet insurance.  
 All adopters choose the day they come to pick the puppy up.  There are 3 boys available at this time but it is not known which those are as we only know the day of pick up.  These puppies are going home starting Wednesday Dec. 11.  Each family gets to choose from 2 puppies that are suitable to what they want (bold, calm, confident, outgoing, submissive, etc.)  
 All current puppies are spoken for 
Cookie x Toby - 5 boys, 4 girls.  
All wavy coats, browns and blacks - all with white marks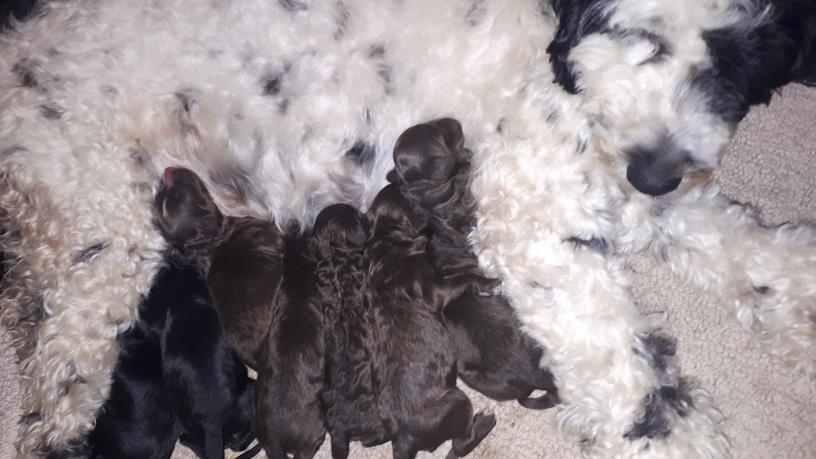 To begin the reservation for you new puppy!
Fill out our Questionnaire.