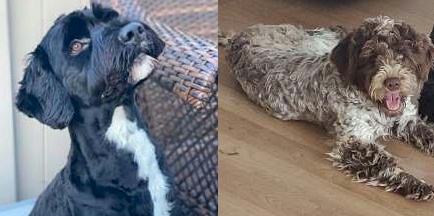 Taking reservations now for puppies expected end of October 2023. Parents are Tootsie and Charlie.

All the puppies will be wavy coated. Some brown and some black expected. Girls will be between 40 -50lbs and boys 50 - 60lbs. Contact us for more information or Fill out the Questionnaire to start the process of adopting a PWD puppy.
Personality and Character which fit the family are two of the most important ingredients for the success of the relationship between dog and family.


From experience, I know that having a dog that is well suited, character-wise usually works out better for both family and dog, therefore, I will be happy to reserve you a puppy based on gender and once a reservation has been made, you will get an additional form to fill out regarding your expectations, desires and goals that you would like in a pup.
At 7 weeks, the puppies are individually temperament tested and then each family will have 2 puppies to choose from (unless you are the last to reserve). The family makes the final decision on which pup is theirs :-)
The puppies are raised in the house with children actively participating in the rearing, handling and care-giving. We live on a rural property but with neighbours so the puppies all get used to regular sounds. They get access to outdoors starting after 5 weeks. They are handled daily and given as many opportunities to experience different sounds (cars, trucks, light farm equipment, children, horses and regular house hold noises). They have blankets in their sleeping area and newspaper so they learn to keep clean. They go outside and feel grass, stone, wood, rubber and straw. I put out various toys and objects for them to play with and interact with. They see and interact with our other older dogs after 6 weeks old.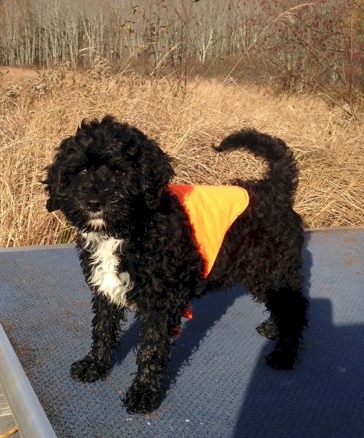 Giving puppies the best start possible to grow into family dogs, companions and active partners is the priority. Bred for temperament, they also come from dogs with Show Champion pedigrees. I choose not to show because of the time it takes to dedicate to grooming and travelling to shows. And sending them with a handler is tricky because they must be kept in 'show coat' which, living on a farm and running free through our woods and swimming in the ponds and streams is NOT condusive to keeping show coats. I chose, many years ago, that having them as my regular family companions (which means being with horses, often dirty and wet, shaved with short coats) was more of a priority than showing. That was MY choice - and not because I have anything against showing vs not. Also, I chose to breed for families over champions which meant the dogs I kept for my breeding program were not always necessarily the Show winners. I let go of a few 'beauty's' in order to keep the ones that I thought had the best temperament and character for family / pet living. I try to keep my puppies less dominant and more sweet companions rather than flashy, dominant / macho dogs that get noticed in a ring.
Also, I don't breed for Working PWD's. Working type dogs are often very 'driven', energetic, bold and demanding. Those are qualities that are desirable in a Working dog (competitive sports). I have chosen NOT kept those dogs for breeding. I try to keep my dogs less demanding, less active and more submissive - which, from my experience, works best in most families. That being said, I will have more bold pups within my litters and less bold. Some that are more active and outgoing and some that are more soft and submissive. So there still is a range of character within my breeding lines but ideally, I would like them all to be 'middle of the road' dogs that can have fun but also settle, can be trained to basics but not need ongoing, repetitive training.
I am happy to refer people to other fabulous breeders that breed for show and / or breeders who breed for Working dogs / competitive sports.
My dogs are health tested for genetic diseases and the puppies are health checked, vaccinated, dewormed & microchipped before going to their new homes. They are CKC Registered and each family has the option to have 6 weeks free trial pet insurance.
All adopters choose their puppy the day they come to pick the puppy up. Each family gets to choose from 2 puppies that are suitable to what they want (bold, calm, confident, outgoing, submissive, etc.)