Interesting Links for Owners of Portuguese Water Dogs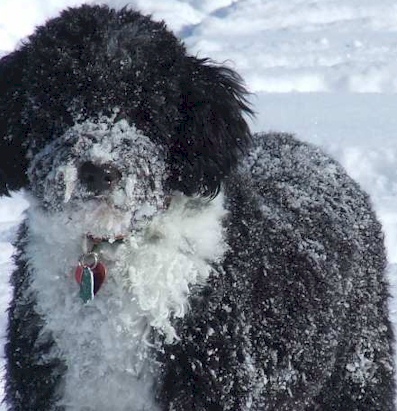 For centuries, this seafaring breed existed everywhere along the coast of Portugal and is considered a purely Portuguese breed. Owing to modifications in the fishing systems used, the breed has become restricted to the province of Algarve which should be considered it's home. 

These links give those of us who love the PWD a little more to admire and look at. 
If you have a business or service related to Portuguese Water Dogs and their owners, by all means contact me to request the addition of your link to this page. 
Official site of The Portuguese Water Dog Club of Cananda
http://pwdcc.org 
Official web site for the Portuguese Water Dog Club of America
https://www.pwdca.org/ 
Maritime Portie Owners Dog group - on Google!
http://groups.google.ca/group/MaritimePWD?hl=en
Paws-itively Perfect Treats, Norm Starr
Our product line consists of dehydrated rabbit ears/flaps, beef spleen, beef heart, beef liver, pork heart, pork liver.
(905) 788-1605 or by e-mail This email address is being protected from spambots. You need JavaScript enabled to view it.
Janice Starr
- Portuguese Water Dogs & Lagotto Romagnolo
- Paws-itively Raw Foods
- Paws-itively Charming (K9 Italian Charms)
- Distributor Arctic Vigor (K9 omega 3/6 EFAs)
e-mail: This email address is being protected from spambots. You need JavaScript enabled to view it.
Merchandise for Dog Lovers. Proceeds go to the PWD Foundation
http://www.cafepress.com/calimel
Portugese Water Dog - Official U.K.C. Breed Standard
https://www.ukcdogs.com/breeds/gundogs/portuguesewaterdog.std.shtml